Amy Balkin
People have long sought to understand, map, and occupy Earth's atmosphere. The Atmosphere: A Guide is a poster-essay visualizing some ways humans occupy present, past, and future atmospheres. Drawing on the visual format of the Cloud Code Chart, which provides a basic introduction for the identification of clouds, the Guide is organised by layer of the atmosphere from sea level to the exosphere.
The Atmosphere: A Guide depicts some human influences on the sky and the accumulated traces left there–whether chemical, narrative, spatial, or political. How do science, social attitudes, economics, and politics intersect in the atmosphere? The intangibility of the atmosphere and much of its composition of gases make it appear resilient and forgiving of anthropogenic damage. However, the future of the atmosphere is altered by how people understand, consider, and act upon it in the present. Current and historical visions of the atmosphere frame our relationship to it and send ripples towards the rights of future people to a familiar climate. Which atmosphere is it? The biogeochemical or the geopolitical? A global commons or militarised space? Does the difficulty of human occupation of the atmosphere produce a space for projection and speculation? A space of indeterminacy?
The Atmosphere: A Guide charts some atmospheric politics and their downward influences. It was contributed to FotoFest by Amy Balkin with the understanding that no fossil fuel funding would support the exhibition or production of the work. It can be downloaded here and printed as a large-format poster.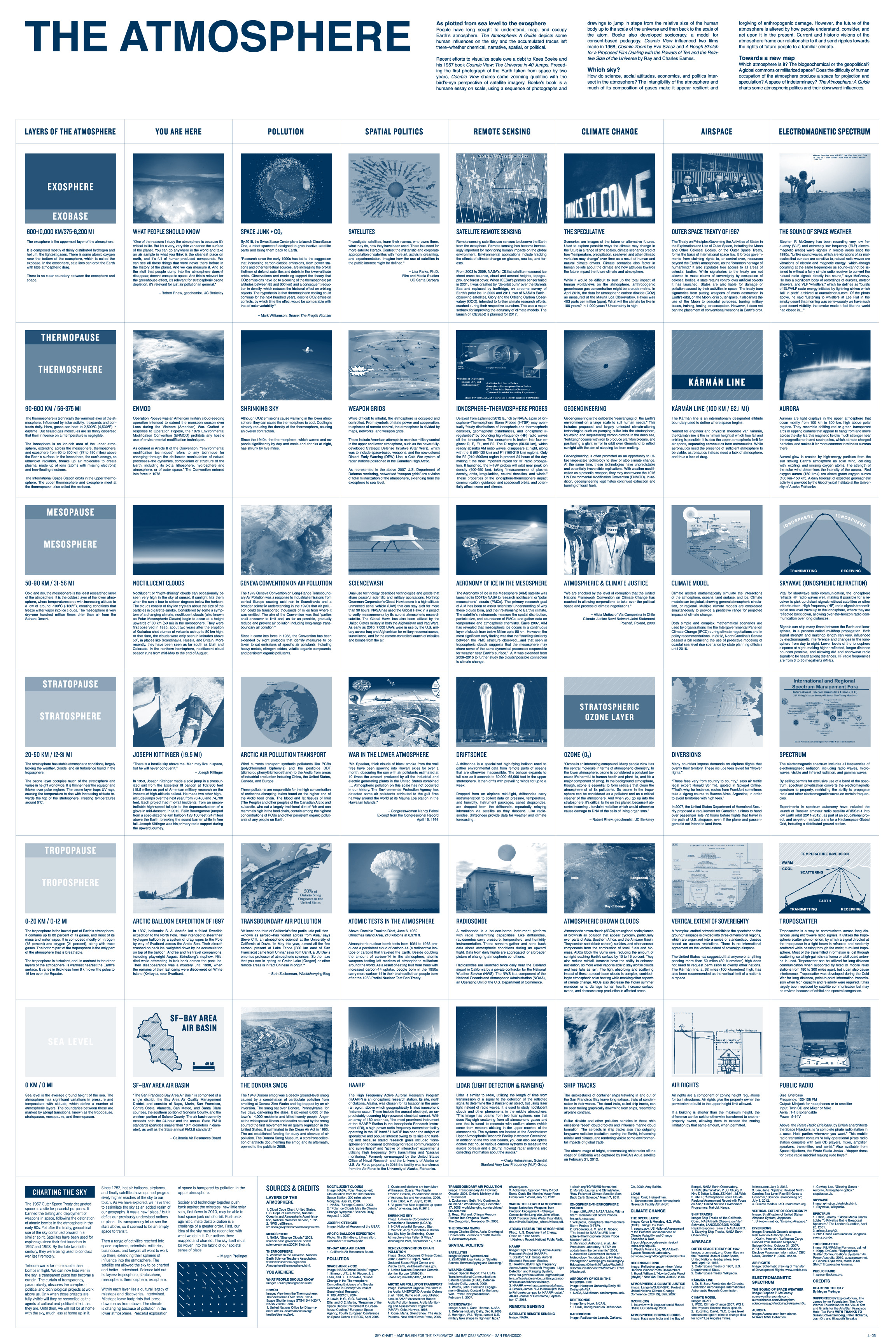 Amy Balkin's artworks propose a reconstituted commons, considering legal borders and systems, environmental justice, and equitable sharing of common-pool resources in the context of climate change. These include clean-air park 'Public Smog', 'A People's Archive of Sinking and Melting' (Amy Balkin, et al.), and 'This is the Public Domain,' an ongoing effort to create a permanent international commons. She was a collaborator on Invisible-5 (2006), an environmental justice audio tour of California's I-5 freeway corridor. Her works and project documentation have been included in Rights of Nature at Nottingham Contemporary, DUMP! at Kunstal Aarhus, Anthropocene Monument at les Abattoirs, dOCUMENTA (13), Public Works: Artists Interventions 1970s-Now at Mills College Art Museum, Globale: Infosphere at ZKM, and Sublime at Pompidou-Metz. Recent publications include "Art in the Anthropocene" (Davis and Turpin) and "Critical Landscapes: Art, Space, Politics" (Scott and Swenson, 2015).