Mandy Barker
It's estimated that more than 8 million tons of plastic waste enters the oceans every year, damaging ecosystems, economies and currently affecting 693 different marine species through entanglement or ingestion. It has the capacity to transport potentially harmful chemicals and invasive species and can represent a threat to human health. Micro-plastic particles are now of vital concern, ingested by organisms at the base of the food chain, there have implications that could impact on all marine life and, of course, the predators that feed off them, including humans.
The motivation for my work has been to raise awareness of the issue of plastic pollution in world oceans and the detrimental effect it has on the environment and marine life. My images aim to stimulate an emotional response in the viewer by combining the contradiction between initial aesthetic attraction and the disturbing factual caption. In my first series, text was presented alongside the image so that it could not be understood solely as an imaginative visual construction. In a sense, therefore, I attempt to guide a knowledge-based understanding of my work, although of course it is up to the viewer to make their own sense of it.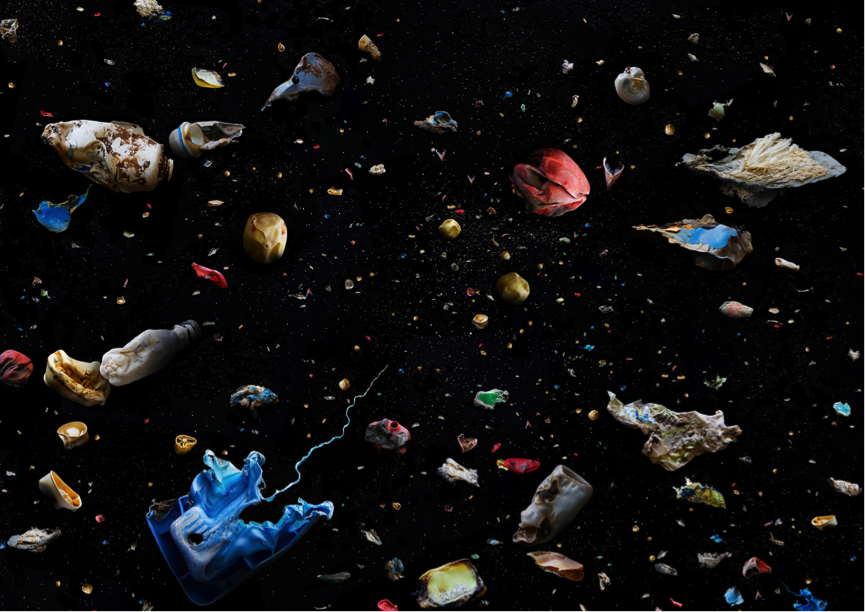 SOUP Burnt
Initially, my work is based on information gathered from research journals and by attending international conferences. But working directly with scientific experts who are studying the problem first hand is a key aspect of the research process and inspires my work. Hopefully too, it affords my pictures an explicit conversation with science if not exactly scientific depth. The photographs highlight a particular species, or area that has been affected, or perhaps a type of plastic object that is having a detrimental effect on biodiversity. If I am alarmed by what I read, as a layperson, there is a good chance that others will be, too, so this could form the basis of an idea for action. Preparation in terms of connecting with others, research, and collection, heavily outweighs the time spent on the final image.
My aim is to connect with a global audience, both in the recovery of debris for the creation process, and in how the final work is received. The series, PENALTY,
involved worldwide collaboration with members of the public from over 41 countries and islands. After a request for the collection of marine debris composed of footballs via social media, 769 were recovered from 144 different beaches around the world.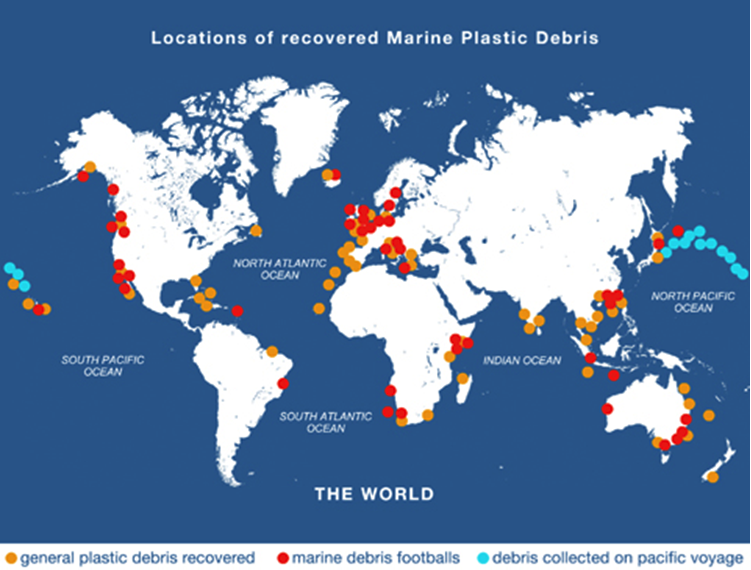 It is hoped this public involvement in the process will encourage social responsibility at a personal level, whereas global publication of the final work and interview on CNN, 'Connect the World', will gain international reach and do just that.
My work has to be accurate if it is to have credibility. It is essential to its integrity that I don't distort information for the sake of making a more interesting image and that I return the trust shown to me by the scientists who have supported my work. Although aesthetics are important, it has more to do with representing the reality of how we are affecting our planet and changing environments.
Photography is a powerful form of communication that has the ability to educate, inform, and I believe change people. By presenting my work and the accompanying information in an accessible way I hope to connect the issue to a wider audience, stimulate debate, and ultimately help inspire change. Considering the impact of plastics on marine life and the rising production of plastics as part of the consumer society, change is sorely needed.
Mandy Barker was awarded The Royal Photographic Society's Environmental bursary in 2012 enabling her to join scientists in a research expedition to examine the accumulation of marine plastic debris in the tsunami debris field in the Pacific Ocean. Her series SOUP has been published in over 20 countries. She has exhibited globally, from The Photographers' Gallery and Somerset House in London, to Aperture Foundation, New York and The Science and Technology Park in Hong Kong.
Header Image: Every snowflake is different (detail)