Matt Woodhead
'Don't stay hidden, you don't have to do it alone'
There are an estimated 700,000 young people in the UK who are providing full time care to adult relatives during the Coronavirus lockdown. A young carer is someone aged 17 or under who provides unpaid care for a family member because of disability, illness, mental health condition or a drug/alcohol addiction. 1 in 12 young people experience being a young carer. That's two in every school class.
Life as a young carer can be deeply rewarding. Doing the shopping, managing the family finances and learning to cook provides young people with skills outside the experience of some adults. However, it is undeniable that the odds are against young carers. The pressure of taking on extra responsibilities in the home means that on average young carers achieve nine grades lower overall than their peers (the equivalent between 9 Bs and 9 Cs). For some young people – particularly primary carers – this is the difference between dropping out of college or going to university. 68% of young carers report that they are bullied; and they are twice as likely to suffer from stress, depression or anxiety.
Ordinarily a young carer can live the life of an everyday teenager – in-between their caring responsibilities – by going to school and hanging out with their friends. The impact of COVID-19 however has left so many young carers living in households with adults identified as vulnerable. Young carers  are now faced with providing full-time care whilst their family self-isolates. At the Who Cares Campaign, we're calling on the public to raise awareness of the vital role young carers play in our society.
In 2015, I walked into a room at The Lowry theatre to be met by a group of young people from Salford Young Carers Service (Gaddum). They wanted to make a play and tell the world about their experiences of caring for a loved one. Nicole (all names are pseudonyms) started caring for her mum before she'd even started high school. Jade looked after her dad and brother – every week they juggled two lots of prescriptions and two lots of assessments forms. Connor was the primary carer for their mum who was living with bipolar and depression. Each story was different, but the message was the same: You can save a life by identifying a young carer. We want to find more.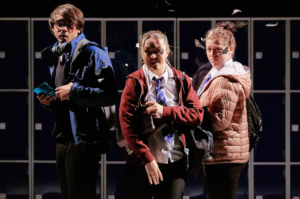 After two years of interviews – and hundreds of redrafts – the script was signed off and the show hit the road. The play, which we called 'Who Cares', toured across England into schools, youth centres and theatres (trailer here). The gut punching words of the young people were seen by over 8,000 children, teachers, youth workers and politicians. 28 hidden young carers were identified and MPs in The House of Commons were 'knocked sideways' by the stories they heard. Wherever we performed the show, what hit home was its universality. Every hurdle our young carers in Salford faced was also being faced by thousands of young carers across the UK.
In Salford, we're proud to sit in a local authority that champions its young carers service. In other cities across the UK however local councils do not adequately fund or monitor the quality of their young carers service. The Who Cares Campaign ran side by side with the theatre production, calling for audiences to lobby the government for services to be improved all young carers, irrespective of where they live. Again, our message was simple: We should not live in a society where the standard of care is determined by a postcode. It is unacceptable that geography determines the life chances of a child.
When COVID-19 struck, the need to support young carers became more urgent than ever before. With the majority of young carers looking after someone with an underlying health condition, everyday tasks have become that little bit harder. Right now, Nicole isn't skipping the lunch queue with her mates or getting the respite she needs. Jade can't just pop to the pharmacy and be back in time to administer dad's injections. When Connor does the weekly shop, he sometimes struggles to get past security because of new shopping restrictions. Coronavirus is not the great equaliser and young carers are the proof. In our darkest hours, the most vulnerable pay the price.
When the Coronavirus Act was published, the Care Act was suspended. This means local authorities no longer have a statutory responsibility to fulfil their assessment, care planning or review duties. There are thousands of young carers workers who are keeping calm and carrying on, but what is happening in the cities that don't have a functioning service? During lockdown, we are asking people to tweet this image to raise awareness and write this letter to Matt Hancock, asking him to consider:
Assuring the public the Care Act will be reinstated as soon as it is safe and possible to do so.
Ensuring key medical supplies (e.g key medication or equipment such as peg feeding or oxygen tanks) and products carers often buy themselves (e.g incontinence products, wipes, disinfectant) are still accessible to young carers.
Information systems like 111 start collecting data on whether someone is a young carer and ask anyone who either reports symptoms or has to self-isolate if they provide an important level of care to someone who might be vulnerable. This should then lead to an appropriate response from the authorities.
Assuring the general public that individuals who have high personal care needs that only a highly skilled care worker or nurse can provide will continue to have their needs met.
All schools having a responsibility to nominate a lead person to make contact with young carers during this time and sign post them to appropriate services.
Increased financial support for local young carer services in helping young carers balance their needs with the needs of the person needing care and support.
The Nicole, Connor and Jades of this world are fearless advocates for their cause. We shouldn't however be waiting for young people lead the way. As adults it's our duty to stand shoulder to shoulder with them. A society is judged by how it looks after its most in need, especially in difficult times. Now more than ever, we need to rally round our young carers.
Matt Woodhead is Campaign Manager, Who Cares Campaign, and writer and director at LUNG theatre, an acclaimed verbatim theatre company associated with Leeds Playhouse and the Lowry. LUNG theatre's latest production is Trojan Horse. Follow the Who Cares Campaign on Twitter and Facebook @WhoCaresAction. Or visit whocarescampaign.co.uk. The Who Cares Campaign is partnered with The Lowry, LUNG and Gaddum
Images: 'The Other Richard'