Nelli Stavropoulou
"Th[e] process of coming to see other human beings as 'one of us' rather than as 'them' is a matter for detailed description of what unfamiliar people are like and a redescription of what we ourselves are like. This is a task not for theory but for genres such as ethnography, the journalist's report, the comic book, the docudrama, and … the novel (Rorty, 1989: xvi)."
On Saturday 5th March 2016, as part of a group of seven volunteers from the North East of England, I visited Calais Jungle and Grande-Synthe (Dunkirk) refugee camps, in France.
We arrived at Dunkirk around 9am and after obtaining a pass from one of the on- camp volunteering groups, we were able to drive our van into the camp and prepare for distribution. For the next three hours we distributed over 2,500 individual care-bags containing bread, eggs, cooking oil, water and chocolates, as well as personal hygiene plastic bags containing soap, razors, toothpaste and toothbrushes, shampoo samples, and small towels. We then walked around the camp, talking to refugees and volunteers, while trying to locate some of the families and individuals we had met during our previous trip.
We donated the rest of our food supplies (cooking oil, water and eggs) to Kitchen in Calais a volunteer-led kitchen operating in Calais, and spend the afternoon with some of the camp's residents, who offered us sweet tea and invited us to join them around the fire.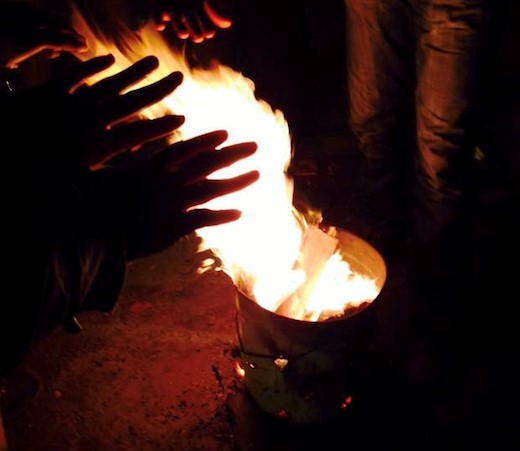 Stories around the fire, Calais, March 2016 (Photograph by project volunteer Meru Nisa Shah)
Since my involvement in refugee aid volunteering trips, I have become increasingly aware of the way in which the refugee crisis is being reported by news media in accordance with particular visual narratives.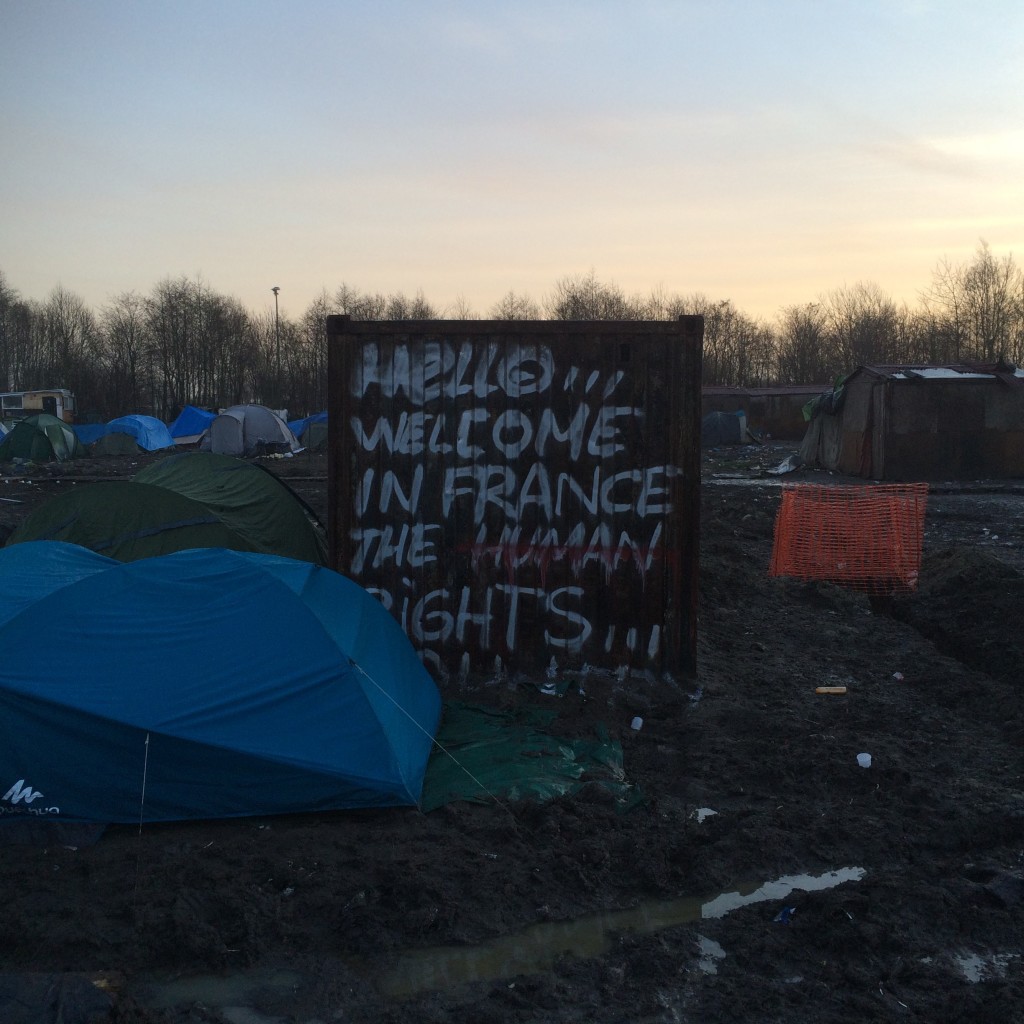 Inside Grande-Synthe refugee camp, Dunkirk, January 2016
In today's image-driven media economy, we have become more and more dependant upon information provided by pictures. The images we consume shape our reality and our understanding of the world around us. In contrast to written text which is understood as the author's intellectual product, photographic images acquire a different 'truth value', and are accepted as  'objective' and 'authentic' manifestations of reality.
Nevertheless, photographic images are not merely pieces of visual evidence, they also serve as means of representation; acquiring an active role in the meaning-making process, charged with ideological connotations and serving as systems of signification. They also serve as mechanisms of elicitation; offering frameworks of understanding that guide audiences and instruct particular ways of 'seeing'.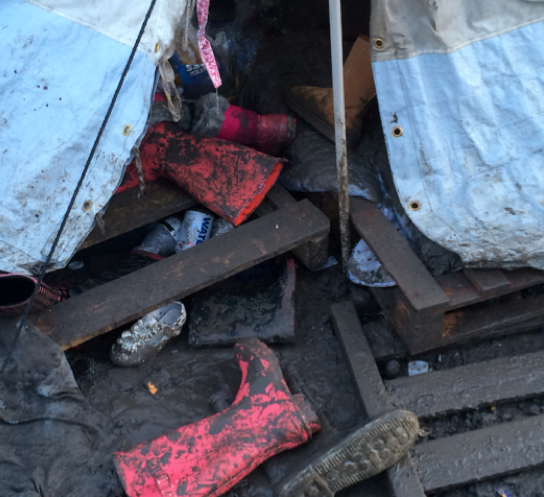 Dunkirk, March 2016
Photojournalism is defined as the practice of visual news' reporting, serving as a means to document and inform the public of what is happening in the world (Newton, 2001).  Kenneth Irby (2002), founder of Poyner's photojournalism programme, (2002) suggests a broader definition of photojournalism as "the craft of employing photographic storytelling to document life: it is universal and transcends cultural and language bounds." (Irby, 2002).
News images do more than documenting events.  According to Sekula (1984) the meaning of a photographic message is determined by the socio-cultural context through which it has been produced.  In understanding the visual culture surrounding the refugee crisis it is therefore necessary to reflect on the function of such media representations and how they may be serving particular socio-political and cultural belief systems.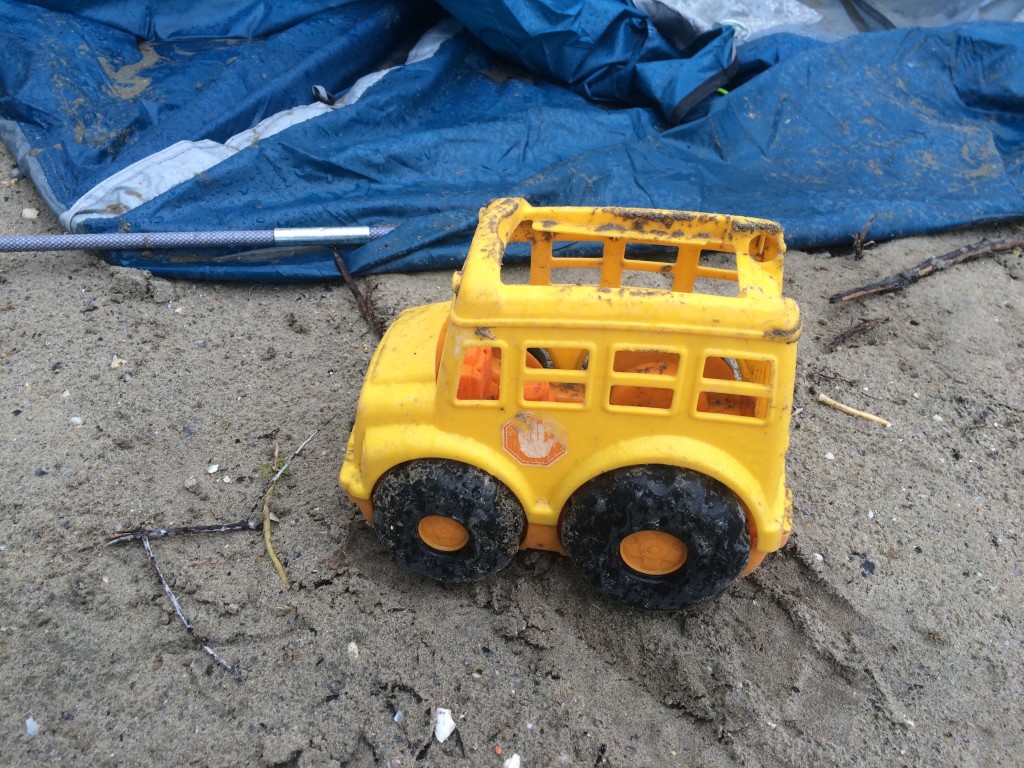 Calais, March 2016
The media serves an important role in bringing important issues to the attention of the public. With such power however comes great ethical and intellectual responsibility.
Witnessing the refugee crisis through the media, one is caught between two opposing visual narratives: the construction of refugees as either Europe's helpless 'victims' or as 'external threats'. Both narratives equally dehumanising and threatening, set in motion processes of 'othering' by creating distance between the viewer and the portrayed subjects, therefore establishing the division between 'us' and 'them'.
There has been extensive coverage of the reality faced by numerous men and women traversing across Syria, Turkey, Greece, Macedonia and beyond in search of safety in Western Europe. Images of refugees arriving at Lesvos' shore on packed boats, women holding young children in their arms, as well as panoramic shots of long queues of individuals waiting in line for food or clothing supplies, form the visual vocabulary employed in describing the refugee crisis.
In documenting the refugee crisis there are many questions to be explored, starting from the angle and 'viewpoint' of a picture, the choice of capturing a particular moment, the decision to crop an image in a particular way, as well as the interplay between absence and presence; the choice of what is shown and what stays invisible.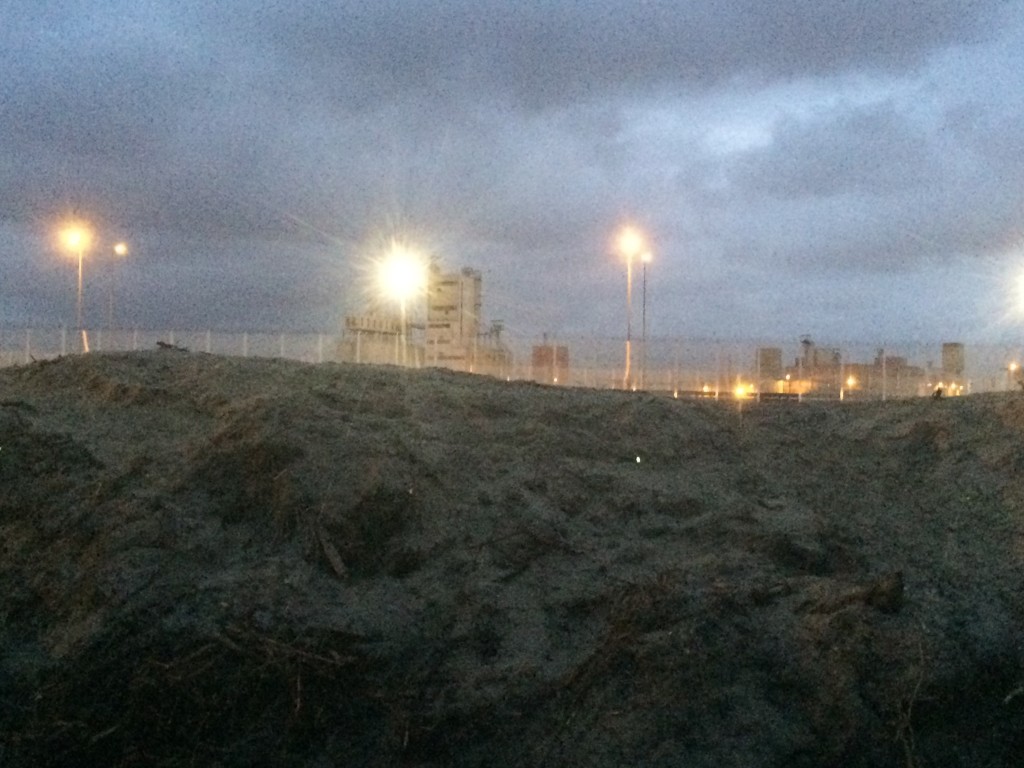 Metal fence surrounding Calais 'Jungle' refugee camp, Calais, March 2016
A commonly used visual motif employed in photographic representations of refugees is that of 'overcrowded boats floating on water'.  Such images suggest the notion of a mass-movement, and in particular communicate the idea of 'lack of space', which alludes to the idea of refugees 'overflowing' European recipient countries  (Gilligan and Marey, 2010).  Additionally, such photos emphasize the notion that 'these people' have no home of their 'own' and are therefore invading "our" homeland (Pugh, 2004).
Equally problematic is the language employed in describing refugee population movements, and in particular the employment of inundation metaphors such as "waves" or "flows"; suggesting a forceful entry and "the power to transcend borders" (Pugh, 2004: 53-54). Such metaphors support a sentiment of fear and risk, and dehumanise the refugee crisis, as refugees are being reduced to a generic 'tide' of human bodies and are therefore robbed of their humanity.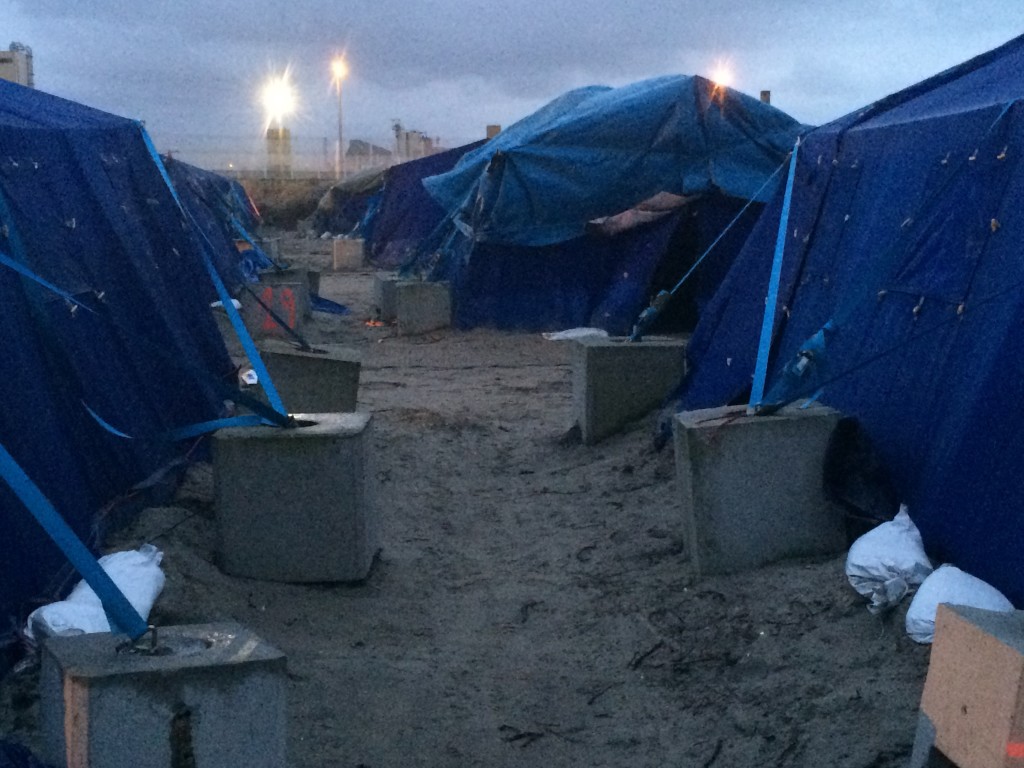 Numbered blue tents, Calais 'Jungle', March 2016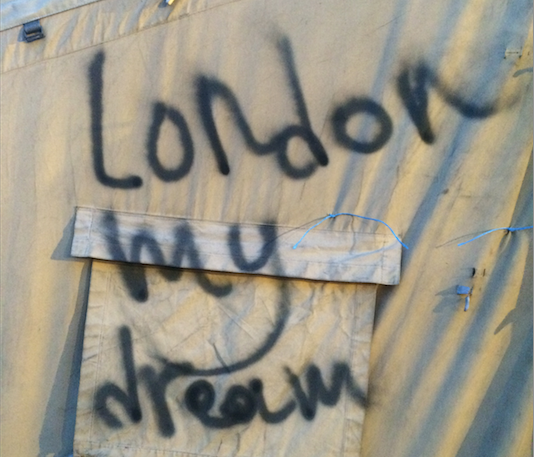 'London my dream' graffiti message on a white tent, Calais 'Jungle', March 2016  

Sensationalised images of refugees can be equally damaging as they reduce refugees to powerless, displaced bodies, affected by external circumstances that are out of their control, hence denouncing them their agency. More importantly, such representations further solidify the idea of refugees as helpless individuals who in need of guidance, aid, and control.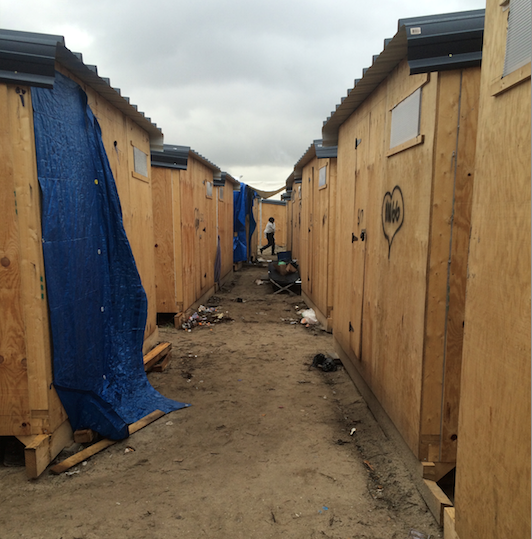 Wooden accommodation facilities, Calais 'Jungle', March 2016
Graffiti message of solidarity, Grande-Synthe refugee camp, Dunkirk, January 2016
The photographic image of three-year-old Aylan Kurdi's tiny body, washed-up on a Turkish beach, served as a turning point in the photographic documentation of the refugee crisis by igniting a new kind of public response and raising questions around the complex relationship between photojournalism, ethics, and empathy.
Aylan's picture highlighted the power of the image in eliciting (re)action and shaping public opinion, as charities and organisations supporting migrants and refugees, reported a significant increase in donations following its publication.  The image of the three-year-old Syrian boy also sparked a debate over the ethical implications of publishing such graphic photographs, in relation to privacy, sensitivity and journalistic integrity.
Aylan's picture also revealed the problematic nature of news media consumption; making one wonder whether we had to see such an extremely graphic and distressing image in order to acknowledge and react to a known and well-documented situation, or whether we have become so desensitised to images of human suffering and are trapped within a state of visual 'paralysis', which demands new levels of 'shock' in order to capture the public eye?
References:
Gilligan, C., Marley, C. 2010. Migration and Divisions: Thoughts on (Anti-) Narrativity in Visual Representations of Mobile People',  Forum Qualitative Sozialforschung / Forum: Qualitative Social Research, [S.l.], 11(2).
Irby, K. 2002 The Art and Langue of Photography: A Photo Journalism Glossary
Newton, J. 2001. The burden of visual truth: The role of photojournalism in mediating reality. Mahwah, NJ: Lawrence Erlbaum Associates. (Last Accessed:Tuesday 5th April 2016).
Pugh, M. 2004 'Drowning not Waving: Boat People and Humanitarianism at Sea' Journal of Refugee Studies, 17(1): 50-69.
Rorty, R. 1989. Contingency, Irony and Solidarity. Cambridge: Cambridge University Press.
Sekula, A. 1984 'The Invention of Photographic Meaning' In Photography Against the Grain, Canada: Press of the Nova Scotia College of Art and Design.
Nelli Stavropoulou is a post-graduate researcher at Durham University exploring the role of participatory arts as a vehicle for self-expression for young people from a refugee/asylum seeker background. Through her research she hopes to establish a model for user-led content creation that facilitates self-expression and allows for refugee stories to be heard. She is also the director of Bridge + Tunnel Voices a media charity organisation that works with socially excluded groups and individuals, encouraging them to share their stories through digital media. She participates in aid trips through volunteer-led group Refugee Biryani and Bananas.
Header Image Credit:  Volunteer at Grande-Synthe refugee camp Dunkirk, January 2016;   Photograph by project volunteer Michael Butler