Image: The Degvilles
David Danks
December 1952.  I am seven years old. It is a freezing cold mid-winter's day and whilst only heavy rain is forecast, I am praying that at least a foot of snow will fall so that the football match, scheduled to be broadcast on the BBC Home Service, will be abandoned.   My dear Dad loved football. In his day, he was a hugely talented amateur player and had trials for some good professional teams but earning a dependable factory wage, in those austere 'after the war' years, was more important than fulfilling silly ambitions like being a poorly paid footballer. Ten hours a day in the sweatshop factories of Darlaston was his lot but he was a proud, hardworking man and never failed to put bread on the table of the back-street terraced house in Walsall that was home.
If there was a football match on the radio, Dad would stand by our ancient 1940s bakelite radio and act out every kick of the ball.  However, if for any reason the Saturday match was 'off' I was allowed to 'twiddle the knobs' for an hour or so, in the often vain hope of finding some jazz or even better, jazz guitar music, limping in from the continent.
Of course, when I was a youngster, I loved Uncle Mac's children's programme on Saturday mornings and my early years would have been bereft without The Runaway Train and Nellie the Elephant but I am glad to say that by the age of seven or eight, I was already in love with the guitar and the exciting sound of swing jazz.
One magical day, when the pitch was declared 'frozen' and I was in charge of the airwaves, I stumbled on a programme of jazz guitar music being played by a gypsy guitarist called Django Reinhardt with the Hot Club du France Quintet. I was mesmerised.
Little did I know that day was to be the start of a lifetime's passion, learning about and playing a style of guitar music we now call gypsy jazz … and it was many years later before I realised how lucky I was to be born in Walsall.
Apart from doing the usual things like falling out of trees and setting fire to my coat, my childhood years were full of music and my love for the guitar grew stronger by the day. My Dad always hoped that I would turn out to be a sporting lad like he was but there was not a cat in hell's chance of this ever happening. I was a very weak child and if I ever stripped down to my shorts, it was not to perform some gymnastic feat but to climb on to a bed at Hatherton Road Clinic to receive my twice a week session of sunray treatment.  How I hated the smell of those thick rubber goggles.
So it transpired that despite me being such a huge sporting disappointment, Dad, being the kind hearted soul he was, finally gave up making me cricket bats and one Friday evening came home with a battered old guitar which he had bought from a second hand emporium on Stafford Street called Birch's Bargain Shop (it is there to this day). I played and played this relic until my fingers bled and even though it was to be quite a few years before I discovered the joy of playing an instrument of true quality, that first guitar was the best in the world.  How I loved it.
In the 1950s and 60s, most Walsall back street pubs boasted at least a couple of musically talented people amongst its 'regulars'. In the main, 'rough and ready' types and true working class. Not one of these enthusiastic amateurs could read music or understood anything about musical theory or technique, they were simply people who needed to play because music was in their souls and ingrained in every fibre of their bodies. We must also not forget that for many of us around in the early 50s, it was hearing wonderful melodies along with a weekly visit to the local picture house that smoothed the sharp edges of five years of war followed by eight years of food and fuel rationing.
For any budding young musician like me, the rather dubious 'out of the way' venues were a great training ground for 'busking' jazz and playing the hugely popular tunes of the 1940s.  If you are sitting alongside an eighteen stone metal worker, who is playing some great stride piano, you either hold your own or put your instrument back in its case and leave. No prisoners were ever taken.
I grew to love the honesty of the Black Country pub musicians who just played for the love of it and it was through playing in these old fashioned wartime pubs that I met some wonderful characters and discovered Highgate Mild Ale.  Three pints of that liquid velvet and my fingers used to fly!
For anyone wanting to hear live music for free, played by genuine amateurs, Walsall was a great place to be. Sunday lunchtime, you could walk into any one of a dozen back street pubs and enjoy live music.  Of course, a lot of it was just a nostalgic trip down memory lane (and there is nothing wrong with that) but Walsall also turned out some credible jazz players.
One such guy was blind Billy Parker.  If you closed your eyes along with Bill, you would swear you were listening to Teddy Wilson.  Billy was also a good singer, but years of battling bronchitis meant that any singing needed to be fortified with copious quantities of ale. Anyway, that was what he told everyone.
Another great character was a hugely gifted one armed pianist, who mainly played in the Rose & Crown in Birchills.  I played guitar with him on a number of occasions. He was a factory worker at Talbot Stead and he played great jazz. If playing piano with only one arm was not difficult enough, he also comfortably coped with a fag and a pint at the same time. I always smile and think of him every time I hear anyone commenting that someone has made a 'good fist of it'.  He certainly did that all right.
I also played for a few years with a terrific double bass player called Bill Jones.  At the weekends he would play his heart out and during the week he was a master bricklayer.
He had hands like bunches of bananas and the musical soul of an angel.  His double bass was falling apart and he always kidded the audience that he kept a couple of pigeons inside.  Of course no one believed him but during a performance he would lift a loose section of the side of the instrument, make some very realistic 'cooing' noises and throw in a handful of pigeon corn, which he had in his pocket. As he always said, playing jazz is not serious stuff unless you want it to be.
By the way, I am now sixteen and thought life would be forever.
In the 50s and early 60s, a pub in Walsall called the Wheatsheaf, became the 'live' music place to be. It was managed by a marvellous lady, who loved her music. Her son Jim was a good banjo player and belonged to a rather useful trad jazz band. For a good few years, the Wheatsheaf was the Walsall jazz 'Mecca'.  Trad jazz upstairs and swing jazz in the bar. Not quite Chez Jacquet but just the sort of place Django would have loved.
Through the Wheatsheaf, I got to know a family of musicians called the Degvilles.  Fred and Trudy (Mom and Dad) and their fourteen year old son called Paul.  They lived and breathed gypsy jazz and the music of Django.  Fred and Paul played guitars and Trudy sang.  When you heard them play, you could have been in Montmartre in the 30s.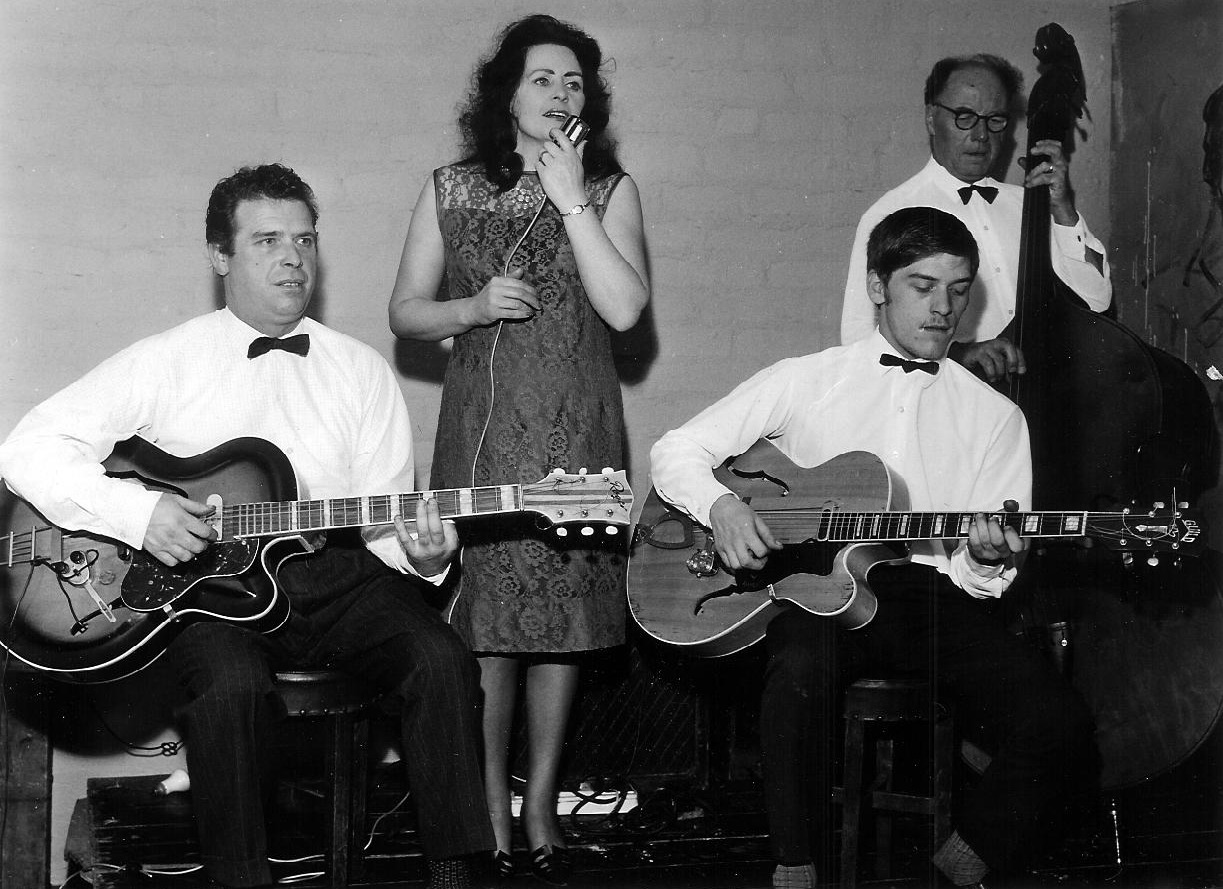 Image: Trudy, Fred and Paul (Photo by Jeffrey Holland)
They performed at the Wheatsheaf two or three times every weekend and had such a huge following you would need to be in the bar two hours before 'kick off' just to get standing room.
As soon as they knew I played gypsy guitar, I was welcomed into the family circle with open arms and it was such a joy to play with them. Paul went on to become a great jazz guitarist and he performed with many of the big names in jazz. We became great friends and enjoyed many hours of musical exploration, pushing each others improvising skills to the limit.
The Degvilles went on to buy a pub in Brownhills called the Crown and, for many years, jazz was played most nights of the week.  It had a great reputation and patrons would travel from all over the country to experience a night at the Crown. We even had Eric Clapton turn up on one occasion!
Another great jazz venue (just outside Walsall) was a pub affectionately known as The Trumpet, in Bilston.  I played there a few times but the two regular performers were Tommy Burton and Reg Keirle.  Tommy was a reincarnation of Fats Waller and once he took the stage you were truly entertained.  Reg was more Hoagy Carmichael and would have the audience in fits of laughter or crying like babies just because of what he played and sang.  Such is the power of great performers and their music.
There are dozens more names and venues I could tell you about, of the jazz, the humour, the sad times but a bit like life, I am only allowed so much space!
I now am tearing towards seventy and unlike when I was sixteen, I now know life is not forever.  I am glad though, to say that there is hardly a day goes by that I do not reach for a guitar and spend an hour recalling those early precious years of musical discovery and wonderful memories of the life and times in the back street jazz pubs of Walsall.
Ah, the photograph at the top of the page. That's me at twenty three, playing with the Degvilles at the Crown. I'm the one playing guitar on the right of the picture (by the piano)    Was I ever that young -and so much hair!
Paul is playing guitar in the centre and Fred is playing piano.  The sax player was a guy, who like me would just turn up and play.  I think his name was Ernie – a great player.
By the way, I am the only one in the picture still alive.  Precious years – you bet!
David Danks was born in 1945 in Walsall.  He went to art school at 15 and then joined an advertising agency as a trainee lettering artist and illustrator at two pounds ten shillings per week. The untimely death of his mother at the age of 46 meant a sudden change of career path and he became a bus conductor with Walsall Corporation Buses for about two years, leaving for work with a Building Society. He retired in 2007 having spent the last fifteen years of his career involved in creating 'the customer experience' with the grand title of national Style & Standards manager. He has played and studied the guitar throughout his life and through that has met some wonderfully creative people.  That is not to say that he did not meet some good folk in the world of finance but he recalls that not many could play A9 with a flattened 5th!